AllSync Internet-Update
AllSync's
Internet-Update
enables you to check whether a new version of AllSync is available for download and to install it, if necessary. The
Internet-Update
can be called up via the AllSync
menu bar
under the menu item
Internet
.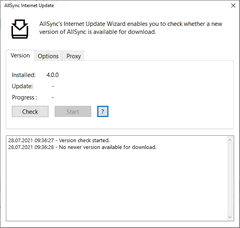 Version
Clicking on the
Check
button causes a check to see whether a new version is available. Clicking on
Download
causes the new version to be downloaded and installed. Information's about a new version are displayed at the log window. In addition, all logging information is written to
InternetUpdate.log
, located in AllSync's
Logs
subdirectory.
Options
Automatically check for new version
This option causes a check to automatically be conducted for a new version of AllSync on the AllSync website every time you open the Internet-Update dialog.
Show Setup dialog when installing an update
Not activating this option cause updating to take place in the background, without any dialog being popped up.
Download Folder
Here you can specify the folder in which the update file for the new version should be saved
Proxy
If necessary, you can specify the access data for your proxy server here.
Data Privacy
When checking for a new version, only a text file containing information is downloaded from our website and evaluated. No private data on your computer is transmitted via the Internet.